Carpet-Re-Stretching
All carpet has stretch in it which allows it to be laid correctly… Incorrectly laid carpet can result in very serious health and safety issues.  Especially in an office environment, or public area, where there is a lot of movement with trolleys or busy with people.
Kool Kleen has successfully rectified many office spaces, Motels and Hotels that have had serious bubbles and waves in their carpet.
Does your carpet have?
ripples
waves
bubbles
wrinkles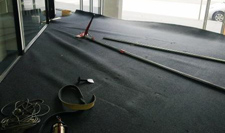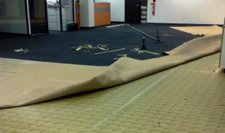 It is a serious safety issue and needs immediate attention to be re-stretched to prevent a certain tripping hazard.
Kool Kleen carpet installers can correct these problems, by using power stretchers and expertise; we can re-stretch your carpet and create a much safer environment, as well as extend the use of your carpet.  Carpet Re-Stretching takes skill, patience and the correct equipment to provide an outstanding result.
For an assessment and quote please call Don @ Kool Kleen on 0418 333 133